Carols in the Cavern 2017
Peak District Scouts are once again holding our ever popular, annual Carols in the Caverns at Peak Cavern, Castleton on Friday the 1st December 2017.
The event is held in the beautiful surroundings of Peak Cavern which has been decorated for Christmas with trees and lights to really get you in the mood for a hearty sing song! This is a magical evening, where we can sing our favourite carols, with friends and family, to the festive feel good sound of The Castleton Silver Band. There might even be a visit from someone special…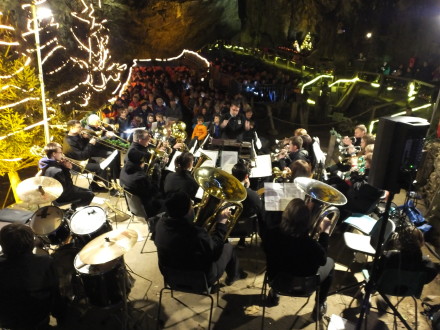 Tickets: Adults: 4.00, Under 18's: £1.50. Tickets available here.
The event is open to everyone involved in scouting, plus family and friends.
The carols will begin at 6:30pm prompt and last for about 45 minutes to an hour. Doors open at 5:30pm, with the opportunity to buy mince pies and hot chocolate to really get you in the mood. They will also be available after the event. (Please arrive in plenty of time to make purchases beforehand.)
Please dress up warmly for the event as it can get decidedly chilly in the cavern some years (we speak from experience)! Festive and fun hats are positively encouraged to really liven up the atmosphere – Christmas hats, jesters' hats, fun bobble hats, etc. are all welcomed! (the more bells the better)
Parking is in the car park at the bottom of the hill in the car-park to Peak Cavern (on your left as you leave Castleton to the West), so please bring a torch to help guide you to the cavern from the carpark. The cavern is signposted from the car park, but to get to there Walk to thr back of the car park, across the road and follow thr footpath opposite along the river Up the hall. The cavern will soon come into view. In total the walk is no more than 1/4 mile up to the cavern.
There are no toilets on the premises, so please bear this in mind when booking.
There is level access to the cavern from the car park and within the cavern to some areas of seating. The ground finish varies from tarmac to gravel, but is generally wheelcair friendly.
For anyone wanting to eat before or after the event, there are plenty of excellent pubs, restaurants and cafes in Castleton and the surrounding Hope Valley as well as a fish and chip shop in Castleton.
For any further inquiries, please email tickets@peakdistrictscouts.org.uk.
We look forward to seeing you there!